James C. Wheat
New Hampshire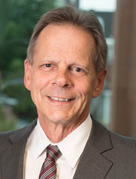 Wadleigh, Starr and Peters, P.L.L.C.
95 Market St.
Manchester, NH 03101
United States
Tel: (603) 206-7241

Email:
jwheat@wadleighlaw.com
Web:
www.wadleighlaw.com
Jim has tried every nature of civil case in the state and federal courts in over 40 years of practice. Currently, he focuses for the most part on complex commercial litigation.
His cases have included all types of construction equipment and transactional matters, professional negligence of architects, engineers, attorneys, real estate agents and brokers and accountants, eminent domain, wrongful death, dram shop actions, personal injury, insurance coverage, products liability, matters involving airplane crashes, surgical microscopes,  and a variety of others.
Prior to joining our firm he completed a clerkship with the Justices of the New Hampshire Supreme Court.
Wadleigh, Starr & Peters serves clients involved in large commercial and industrial projects as well as the legal needs of individuals. Our attorneys have experience in all aspects of construction litigation and practice and represent those directly involved in a dispute as well as their insurers.
Founded in 1899, Wadleigh, Starr & Peters, P.L.L.C. offers a full range of legal services to local and national clients. Working closely with clients from a wide cross section of the private and public sectors, Wadleigh continually adapts to meet the needs of its clients. We pride ourselves in combining quality, large firm representation with common sense strategies. Our success has been and continues to be based on the highest quality legal work performed by highly qualified legal professionals who take pride in their work, are devoted to their clients and always put the needs of their clients first.
We are proud of our history and draw on our vast experience and historical perspective to address the ever-shifting demands of this challenging and rewarding profession. Outstanding client service is a cornerstone of our practice that has withstood the test of time. Being at the top in business is about tomorrow and our attorneys know the marketplace and the law is changing at a rapid pace. We understand the issues faced by our clients and know that our clients' success is the best measure of our success.
Wadleigh, Starr & Peters is a member of ALFA International, the global legal network. With 145 member firms across the globe (80 in the United States). The ALFA International model enables Wadleigh, Starr & Peters to use its local expertise to deliver highly effective legal solutions while drawing upon the collective wisdom and experience of other member firms within the United States and around the world as needed.