John J. Lavin
New Jersey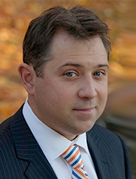 Lavin & Associates, P.C.
184 Main Street
Chester, New Jersey 07930
United States
Tel: 908-888-2508

Email:
jlavin@lavinassociates.com
Web:
www.lavinassociates.com
John J. Lavin, the founding partner of Lavin & Associates, is an attorney who far prefers the fast paced, think on your feet trial practice of the courtroom to his desk. Although he shines when standing before a judge or an arbitrator, he knows that success in the world of litigation comes from strategic planning, risk evaluation and rigorous preparation.  He uses his time in the office wisely and with the end game of success in mind.
John has focused his practice on construction litigation for the last twenty years, representing contractors and industry professionals as well as owners in both the public and private sectors.  He represents contractors working on both federal and state projects from project solicitation through delivery and close out.  John is fully familiar with the solicitation and procurement processes at the state and federal levels.  He is intimately familiar federal construction projects and has a command of the Federal Acquisition Regulation and related agency regulations.  John handles all construction related matters from bid protests, preparation of requests for quittable adjustments, claims, mediations, arbitrations, and lawsuits understanding that the client's resources should be respected and used wisely.  Often, the right representation early in disputes is key in avoiding protracted and expensive litigation.
Aside from being familiar with both the courtroom and alternative dispute resolution from a lawyer's standpoint, John comes from a construction family and worked as an electrician from high school through law school.  His personal understanding of construction projects and passion for building things gives him perspective that other attorneys do not have as he has been there, with boots on, tools in hand, trying to get through the struggles of a project. His practical and technical knowledge also help bridge the gap between client and attorney because clients and experts can "talk-shop" with him. His experience with construction helps when it comes to analyzing claims and defenses. He is able to quickly focus on areas that should be beyond dispute and use those pieces of the puzzle to drive resolution.
Knowing it is a far better option to complete a project than it is to litigate over it, John has the knowledge and experience to interpret contract provisions and provide practical guidance to see the project through while best protecting his client's interests. If it does come down to litigation, be it in the courtroom or at arbitration, his ability to present the highly technical components of construction litigation claims in a clear, easy to understand manner, allows him to successively argue these complex cases to judges, jurors and arbitrators.
John is also highly familiar with the New Jersey Consumer Fraud Act as it applies to the regulation of contractors, construction projects and home improvements. John has also served as special litigation counsel for municipalities on topics from construction disputes to negotiation of labor contracts and dispute resolution before state agencies and boards.
John earned his B.S. from King's College and his J.D. from the Quinnipiac University School of Law where he was on the school's Moot Court Honor Society. Formerly, John was the Co-Chair of the Construction Law Section of the New Jersey State Bar Association. He is a regular speaker for the New Jersey Institute of Continuing Legal Education and has spoken for Lorman Seminars as well as before numerous trade associations. He is a member of the New Jersey State Bar Association, the American Bar Association and the Morris County Bar Association.   John is admitted to practice in New Jersey State and Federal Courts, before the Supreme Court of the United States and the United States Court of Federal Claims. John has been on the New Jersey Super Lawyers list since 2015, where only five percent of lawyers in the state are selected.
From advising a client on the delivery approach best suited to any project, be it design–build or a multi-prime project, Lavin & Associates, P.C. has the experience in representing owners and contractors to help you decide what is best for your project.
We can also offer the advice necessary to prepare, review and revise a construction contract to best suit the needs of our clients. Having represented contractors and public entities alike in preparing projects for bid, reviewing submitted bids, protesting accepted bids and even withdrawing them, we can help you assure that bids for public sector work are fully responsive and compliant with the applicable statutes, municipal ordinances and applicable regulations for all levels of government – local to Federal.
Having litigated many cases regarding contract interpretation, we can help you avoid the problems that come from poorly drafted contracts through negotiation of the contract.
Construction Phase/Compliance
We can bring all of our experience to bear when problems start to arise on your projects. From delay to abandonment, we can help keep the project moving and protect your interests.
If you are a contractor, subcontractor or supplier performing government work, there are many laws and regulations that must be complied with. Increasingly, we have seen problems arise on projects because of a failure to comply with those laws and regulations. From assuring that Federal or Federally assisted construction contractors comply with the many laws and regulations that impact their work to assuring that a claim, such as one for force account work, is properly and timely made against a state agency, Lavin & Associates, P.C. can help you.
If you are a contractor, subcontractor or supplier that has not been paid, we can help you navigate the highly technical requirements of filing a construction or mechanic's lien. If you are an owner and do not believe that a lien has been properly filed, we can help you discharge it. Be it a municipal mechanic's lien, a construction lien filed on a multi-residence project, or a claim on a performance or payment bond, we have dealt with it and can help you protect your interest.
Disputes
From abandonment to design defect claims, we have handled it. We rely on our years of experience litigating construction claims on behalf of owners and contractors, both in the courtroom, before government agencies and in arbitration to provide you with cost effective representation.
Lavin & Associates, P.C. is a boutique law firm focusing on construction and complex commercial litigation matters.
Representing both private and public sector clients in the federal, state and alternative dispute resolution arenas, we strive to provide legal services that are second to none with integrity, professionalism and respect for our clients.
Our core value is believing strongly that excellent work product, a focused practice and pride in the work performed is vital to advancing the interests of our clients, and, ultimately, achieving success on their behalf.