Bradley L. Croft
Massachusetts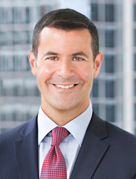 Ruberto, Israel & Weiner, P.C.
255 State Street
Boston
MA 02109
Tel: 617-570-3506

Email:
bcroft@riw.com
Web:
www.riw.com
Brad Croft is a shareholder, President of the firm, Chair of the firm's Executive Committee, and Chair of the Litigation Department. He concentrates his practice on complex business matters in the areas of construction, real estate, partnership disputes, and general commercial law. Brad has represented clients in a wide variety of matters, including construction claims, general commercial disputes, partnership disputes, land use litigation and zoning appeals, employment matters, condominium cases, and tort claims. He has tried cases before judges, juries and arbitration panels in Massachusetts and Connecticut.
In addition to his commercial litigation practice, Brad is a recognized leader among Massachusetts litigation and construction lawyers. He was selected as the 2015 Massachusetts Construction Lawyer of the Year by Best Lawyers in America, the only lawyer in Massachusetts to receive this honor. Brad recently served as co-chair of the Litigation Section of the Boston Bar Association, which has over 2,500 members. He is also the past chair of the BBA Construction Law Committee and Steering Committees for both the litigation and real estate sections.
In his construction practice, Brad represents owners, general contractors, subcontractors and suppliers, in all aspects of construction transactions and disputes. Brad counsels his construction clients on risk avoidance and ways to minimize their exposure to liability and legal fees. His clients rely on his experience and expertise to draft and negotiate all types of contracts relating to construction projects and to resolve construction and real estate disputes through negotiation, mediation, arbitration and litigation in state and federal courts.
Education:
J.D. University of Connecticut School of Law, 1995
B.A. Tufts University, cum laude, 1992
Phillips Academy, Andover, 1988
Honors & Awards:
2015 Massachusetts Construction Lawyer of the Year, Best Lawyers in America
Best Lawyers in America, Construction Law, 2021, 2020, 2019, 2018, 2017, 2016, 2015, 2014
Super Lawyers, 2020, 2019, 2018, 2017, 2016, 2015, 2014, 2013, 2010, 2005
Avvo, 10.0 "Superb" rating
Fellow of the Construction Lawyers Society of America
Ruberto, Israel & Weiner's Construction Law Group knows how to manage the unique demands of the construction industry. We help our clients navigate all phases of their projects from bidding and contract formation, to performance and payment issues, through to project close-out, approvals, and occupancy. We advise on insurance and project-financing issues, analyze and assess risks and claims, and ensure that our clients' interests are appropriately protected. When disputes arise, we are strong advocates for our clients and are committed to achieving a favorable result in as efficient a manner as possible.  RIW represents developers, general contractors, subcontractors, architects, engineers, suppliers, and sureties involved with both public and private projects.
RIW's Construction Law Group offers the following services for our clients:
Assist with construction and development entity formation.
Prepare, analyze, defend, and prosecute construction claims, including contract balances payment disputes, change order disputes, scope of work issues, mechanic's lien claims, surety bond issues, delays, disruptions, and terminations, warranty claims, defective construction and product issues and employment disputes.
Advise clients on best practices for streamlining and optimizing administration of projects and risk avoidance.
Prepare and negotiate design and construction contracts such as AIA and ConsensusDocs.
Ruberto, Israel & Weiner is a business law firm based in Boston, Massachusetts providing legal services to a diverse client base throughout the region, across the U.S., and internationally.
RIW represents individuals and all forms of business entities in a variety of industries, including technology, manufacturing, securities, banking and lending, hospitality and retail services, construction, insurance, and commercial real estate.
Our practice areas encompass a full range of legal services, including:
Banking, Finance & Lending
Bankruptcy, Workout & Insolvency
Cannabis
Commercial Real Estate
Construction Law
Corporate & Business
Emerging Companies
Employment Law
Hospitality Practice Group
Litigation
Mergers & Acquisitions
Securities Law
Technology
Trusts & Estates
We combine the skills and resources of a larger firm structure with the accessibility and efficiency of a smaller, more flexible firm. Value without compromise.