Brandon M. Schwartz
Minnesota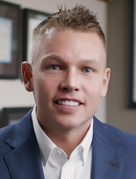 Schwartz Law Firm
600 Inwood Avenue N.
Suite 130
Oakdale, MN 55128
Tel: 651-528-6800

Email:
brandon@mdspalaw.com
Web:
www.schwartzlawfirmpa.com
Mr. Schwartz is a Board Certified Civil Specialist by the Minnesota State Bar Association, a Board Certified Civil Trial Advocate and Family Trial Law Advocate by the National Board of Trial Advocacy, and has received recognition from peers and clients alike for his thorough, zealous, and ethical representation. Whether it be resolution at jury trial, court trial, arbitration, mediation, or pre-suit negotiation, Mr. Schwartz has the experience and legal knowledge to effectively advocate for his clients.
Mr. Schwartz earned an undergraduate degree cum laude in finance and economics from Michigan Technological University in 2006 while on a full hockey scholarship and earned his Juris Doctor, cum laude and in the top ten students in his class, from the William Mitchell College of Law in 2011. Admitted to practice in Minnesota, Iowa, Wisconsin and Arizona, he is also admitted to practice before the U.S. District Courts for the Districts of Minnesota and Wisconsin.
Prior to entering law school in 2008, Mr. Schwartz played professional hockey in the American Hockey League and East Coast Hockey League while employed as a clerk for the firm, a job that he kept until his graduation.
Subcontractors too often find themselves fighting a general contractor with deeper pockets, but we have the skills to handle your issue cost effectively and efficiently.
Licensed in Minnesota, Wisconsin, Iowa and Arizona, our team has over 50 years of trial experience and has been recognized by our peers for excellence in practice. Our greatest compliment, however, is that our practice is built on referrals from our clients and opponents.
With in-depth knowledge of a wide variety of professions, industries and business practice areas, including construction, health care, manufacturing, marine electronics, and professional services, we look to provide counsel for the ever-challenging business/legal world. We provide zealous and cost-efficient representation to our clients.
Our attorneys build lasting relationships with our clients to address the business and legal issue at hand while planning for long-term success. Licensed to practice in Minnesota, Wisconsin, Iowa and Arizona, we can provide representation throughout the region as necessary to meet our clients' needs.