Cherche Prezeau
Montana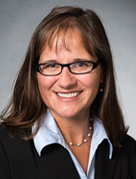 Christensen & Prezeau, PLLP
The Montana Club Building
24 W. 6th Avenue, Suite 501
Helena, Montana 59601
Tel: 406-603-4000

Email:
cherche@cplawmt.com
Web:
www.cplawmt.com
Cherche Prezeau is a founding member and managing partner of Christensen & Prezeau, PLLP.
Cherche brings over twenty-five years of experience to the firm in the areas of construction law, real property and land use, personal injury defense, and labor and employment law. Cherche holds an AV Preeminent Rating from Martindale Hubbell, has been chosen for Super Lawyers in 2023 as a top-rated Construction Litigation Attorney and is listed on the Bar Register of Preeminent Women Lawyers. She has successfully represented clients before administrative tribunals, licensing agencies, and state and federal courts, including the Montana Supreme Court. In addition, she regularly provides advice and guidance to clients on contract-, employment-, insurance- and construction-related issues.
Cherche is a member of the Montana State Bar Construction Law Section and has spoken at numerous construction law conferences. Cherche serves as panel counsel for a number of insurance companies and regularly represents insureds in construction-related disputes and in employment and personal injury litigation. She is a former Trustee on the Helena School Board.
Education
1990 – B.A., University of Montana (with honors)
1995 – J.D., University of Colorado
Community Involvement
Trustee, Helena School Board (2007-2016)
Professional Affiliations
State Bar of Montana (Member, Construction Law Section)
First Judicial District Bar Association
Montana Trial Lawyers Association
Awards and Honors
AV Preeminent, Martindale-Hubbell Peer Review Rating
Super Lawyers – Top Rated Construction Litigation Attorney
Martindale-Hubbell, Bar Register of Preeminent Women Lawyers
Martindale-Hubbell, Bar Register of Preeminent Attorneys – Listed Lawyer
Martindale Hubbell, America's Most Honored Professionals – Top 1%
First Judicial District Bar Association, Pro Bono Service Award
Christensen & Prezeau, PLLP, is a leader in the area of construction law.
The firm represents contractors, owners, developers, architects, engineers, subcontractors, and suppliers, providing both construction-related advice and litigation services. Our firm has extensive experience in the preparation and review of construction contracts and construction liens, administrative and licensing issues, and negotiation and litigation of disputes involving defective construction, contract disputes, and delay and collection issues.
We also serve as panel counsel for several national insurance companies, providing representation to contractors and design professionals in construction-related litigation.
Christensen & Prezeau, PLLP, evolved from the long-standing and well-respected law firm of Hughes, Kellner, Sullivan, and Alke. After HKSA dissolved in 2014, Amy Christensen, Cherche Prezeau, and John Sullivan formed Christensen & Prezeau, PLLP, and were accompanied by two of their associates. Christensen & Prezeau, PLLP, has seamlessly continued the tradition created decades ago of providing award-winning legal counsel and representation to businesses, governmental agencies, health care organizations, nonprofit corporations, insurance companies, and individuals throughout Montana.
Our legal advice and litigation strategies are based on a combination of acumen, practicality, and years of experience. Our attorneys are experienced counselors and litigators in a variety of legal topics and are capable of resolving issues and disputes in court, administrative proceedings, and alternate dispute resolution. In every case, we strive to achieve one simple goal: getting the right result for our clients.