Jeffrey M. Donofrio
Connecticut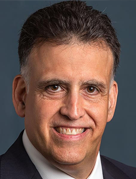 Ciulla & Donofrio, LLP
127 Washington Avenue
North Haven
CT 06473-1715
Tel: (203) 239-9828

Email:
JDonofrio@cd-llp.com
Web:
www.cd-llp.com
Attorney Jeffrey M. Donofrio has been practicing construction law, municipal law and commercial litigation in Connecticut since 1990. Mr. Donofrio began his career at Tyler Cooper & Alcorn in New Haven, where he practiced until leaving to form Ciulla & Donofrio, LLP on November 1, 1996 with Robert K. Ciulla. Jeffrey Donofrio is admitted to the bars of Connecticut, the U.S. District Court for the District of Connecticut, the U.S. Court of Appeals for the Second Circuit, and the U.S. Court of Federal Claims. He is a graduate of Boston College and the Catholic University of America Columbus School of Law.
Jeffrey represents businesses and public agencies of all sizes, including municipalities, construction contractors, construction managers, developers, construction equipment dealers, financial institutions, telecommunications companies, insurance companies, service companies, and other types of businesses. Jeff is the Town Attorney for the Towns of Berlin, Cheshire, and North Haven, respectively, and provides a la carte legal services to a dozen other municipalities in Connecticut. Jeff also serves as outside general counsel for several clients.
Jeff has extensive experience with all types of alternative dispute resolution and also serves as a mediator and arbitration in complex commercial contract and construction disputes.
Jeff enjoys an AV rating, Martindale-Hubbell's highest rating for legal ability and ethical standards, and has been rated AV every year since he first received a rating in 2000. Jeff been selected by Benchmark as a Local Litigation Star for several years and was also selected as a fellow by the Litigation Counsel of America. Jeff is an annual selection in Super Lawyers since 2006 and was selected in 2020-2022 for inclusion in The Best Lawyers in America.
Jeff has presented seminars to groups such as the New Haven County Bar Association, the Connecticut Bar Association, the Bank Compliance Association of Connecticut, Lorman Educational Services, Half Moon Education, the Connecticut Public Purchasing Association, and the National Business Institute in the areas of construction law, procurement law, creditors' rights litigation, legal technology, mediation, contract law, and prejudgment/post-judgment remedies. Jeff has also written numerous articles published in the Connecticut Law Tribune and Connecticut Lawyer, focusing on construction law and legal technology topics. In 2013, he authored Chapter One of Thomson Reuters' Inside the Minds: Representing Municipalities in Litigation.
Jeff is the past Chairman of the Legal Technology Committee of the Connecticut Bar Association and is a member of the Executive Committee of the CBA's Small Firm Law Practice Management Section. Mr. Donofrio is also a member of the American Bar Association (Litigation Section, Forum on the Construction Industry, Law Practice Management Section, and Construction Litigation Committee), the Connecticut Bar Association (Litigation, Construction Law, Commercial Law, and Small Firm Practice Management Sections) and the New Haven County Bar Association. Jeffrey is a former member of the Municipal Law, Liability, and Insurance Committee of the Connecticut Conference of Municipalities. Ciulla & Donofrio is a member of CCM, the Council of Small Towns, the Connecticut Association of Municipal Attorneys, the Connecticut Building Congress, the New Haven and Quinnipiac Chambers of Commerce and the Connecticut Construction Industry Association.
Regardless of the type of project, the form of project delivery or the expertise of the project participants, there is always some level of risk associated with a construction project. How the team manages the risk and addresses the challenges is what separates a successful project from a distressed project..
If you are involved in a commercial (public or private) construction project as an owner, developer, contractor, construction manager or supplier, you should engage a responsive, experienced and cost-effective construction attorney as part of your team. Based in North Haven, CT, Ciulla & Donofrio LLP has the necessary legal and business expertise to provide you with comprehensive and efficient legal representation no matter how great the challenge or crisis you are facing.
Understanding how buildings are built and how the construction industry operates is the foundation for finding practical legal solutions in complex construction disputes, including mediation, arbitration and litigation proceedings. We understand you have no time (or money) to waste and we make your business our business by providing personalized, responsive and efficient representation.
First and foremost, we are a litigation firm at Ciulla & Donofrio LLP. We regularly utilize ADR proceedings, such as mediation, to provide expedited, cost-effective resolution of disputes. Our services parallel the sequence of a project: we draft and review procurement documents; we draft, review and negotiate contracts; we provide troubleshooting services when issues arise during the construction phase; we prosecute and defend the full range of claims that arise on commercial projects, including:
Proving and defending quality of work and defective work claims;
Proving and defending disputes over change orders, differing site conditions and extra work claims;
Handling breach of contract claims and all other contract disputes;
Prosecuting and defending payment disputes, including mechanics' liens, payment bond, and related claims;
Prosecuting and defending delay and other time impact claims; and
Mediation, arbitration and litigation of disputes and claims arising on projects.
Attorney Jeffrey M. Donofrio has represented clients in complex construction litigation matters in state and federal courts throughout the U.S. Jeff's partner, Lou Dagostine, has extensive experience representing the firm's construction industry clients as well. Lou joined the firm in 2006 and has distinguished himself as an aggressive yet practical litigation. Together, our firm is ready to represent you in your construction dispute or claim.
Achieving your business goals requires managing risk and resolving disputes in a cost-effective manner. Building a relationship with an experienced construction attorney should be a priority, regardless of how successful your business has been to date. Turn to the professionals at Ciulla & Donofrio LLP to discuss your needs and receive the necessary and appropriate legal guidance you need.
Ciulla & Donofrio LLP represents businesses of all sizes, including financial institutions, service companies, municipalities and other governmental entities and agencies, insurance companies, utilities, technology firms, construction contractors, developers, equipment dealers and suppliers, and smaller businesses in disputed matters before state and federal courts, administrative bodies, and in arbitration and mediation proceedings. We provide the specific services that our clients need and desire ranging from contract drafting and negotiation, to comprehensive strategic management and conduct of lawsuits, to the performance of discrete litigation management and support functions. We regularly serve as local counsel in a wide variety of commercial matters.
Our attorneys regularly counsel and represent clients in the areas of complex commercial litigation, construction and surety law, business law, creditors' rights, contract law, insurance coverage and defense, municipal law, product liability, land use and zoning law, real and personal property tax appeals and a wide range of tort law.
We are fully aware of our clients' concerns about legal costs and we always discuss in advance with clients how a matter is to be handled. We communicate promptly and regularly with our clients to review strategies and projected costs. Where appropriate, we make effective use of mediation and arbitration to resolve disputes efficiently and cost-effectively. Our core mission is, and has been since our inception over 25 years ago, client service. We pride ourselves on delivering value to our clients. We have a very high client retention rate; in fact, the amount of repeat business we receive reflects more than the quality of our work. In all endeavours undertaken by us on behalf of our clients, our conscious effort to build long-term relationships is evident.
What distinguishes Ciulla & Donofrio, LLP from other firms is that we provide large firm experience with personalized service for a very competitive price. The experience we bring to every assignment, our tenacity, practicality, and utilization of state-of-the-art technology to deliver superior and cost-effective results to our clients, and our commitment to serving our clients' needs in the most expedient, efficient manner possible provide tremendous value to our clients.