John E. Harper, Jr.
Oklahoma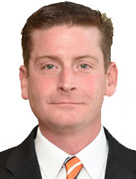 Barrow & Grimm, P.C.
110 W. Seventh St.
Suite 900
Tulsa, Oklahoma
Tel: 918-584-1600

Email:
j.harper@barrowgrimm.com
Web:
www.barrowgrimm.com
John E. Harper, Jr. concentrates his practice primarily on matters of construction litigation and surety law. Mr. Harper's construction litigation and surety law experience includes the drafting and review of all types of construction contracts, surety takeover and completion contracts, complex case analysis and all phases of trial preparation, trials and appeals.
Mr. Harper also counsels management on employer compliance with state and federal employment laws. Mr. Harper has represented management in state court, federal court, mediation, arbitration and before the National Labor Relations Board and the Occupational Safety and Health Administration.
Mr. Harper received his undergraduate degree with special distinction from the University of Oklahoma while on academic scholarship. He earned his law degree from the University of Oklahoma College of Law.

The Firm's construction and surety law practice section counsels and represents general contractors, subcontractors, sureties, private and public owners, construction managers, design professionals and material suppliers in all aspects of commercial construction. Our responsibilities often extend to all stages of the project delivery process, from contract negotiation and drafting, through counseling during construction, preparing and enforcing lien and bond claims, to dispute resolution and/or trial. These responsibilities have included both domestic and international projects.
The Firm's construction and surety lawyers frequently work with and draw upon the experience of our colleagues from the Firm's practices in tax, transactional and governmental agency relations. We have also developed a practice with a deep understanding of insurance matters as they relate to the construction industry, including insurance and surety issues that often arise in construction projects. Our labor and employment law practice has handled a full range of issues involving construction matters including unions, minority business enterprises, discrimination, immigration, and ERISA issues. Our lawyers have also assisted in mergers and acquisitions involving construction companies, as well as the areas of trade secret protection and other intellectual property involved in the construction process.
Established in Tulsa, Oklahoma in 1976, Barrow & Grimm, P.C. is a full-service law firm, widely known for premier practices in the areas of commercial law, civil litigation, construction and surety law, tax law, estate planning and employment and labor law. Barrow & Grimm, P.C.'s location and geographical reach allows us to counsel clients on aspects of both in-state and regional business and litigation matters.
The attorneys of Barrow & Grimm, P.C., remain sensitive to the individual circumstances of each client's case. They also provide accurate and timely information to every client. The law firm of Barrow & Grimm, P.C., recognizes the importance of considering all of the human factors involved in legal matters.
Business law and litigation have always been primary focal points at Barrow & Grimm. Our attorneys — each with specific areas of practice emphasis — are able to pool their resources for the rapid responses required in today's business environment. Clients in need of services such as litigation advocacy, corporate transactions and tax advice.