Jon Larson
Oregon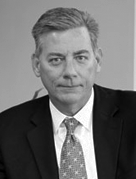 Marvin Chorzempa & Larson P.C.
5335 Meadows Road
Lake Oswego
OR 97035
Tel: (503) 232-1410

Email:
jclarson@mca-law.com
Web:
www.mca-law.com
Jon Larson has been practicing law since 1989. Since joining the firm in 1999, Jon has represented individuals and businesses in a variety of civil litigation matters, with particular emphasis on representing design professionals in construction defect litigation and working on matters related to the construction industry.
Jon represents clients throughout the Northwest in federal and state courts, and in private mediations and arbitrations. His practice involves a variety of matters, including complex litigation, with multi-million dollar claims. Representative construction defect matters include claims for water intrusion at multifamily developments, improper structural design in residential and commercial projects, including roadways and bridges. Further, Jon's practice includes contract drafting and negotiations, product liability, estate planning, and business law matters for the firm's architecture and design clients.
Jon Larson is also an active participant in the Portland community. He is frequently called upon to share his expertise with attorneys and other professionals, and has presented continuing education seminars on numerous areas of law pertaining to the design and construction industry. Jon is also a member of the Legislative Committee of the American Council of Engineering Companies (Oregon) and assists in analyzing and drafting bills as well as advocating in the State legislature for the design community.
At Marvin Chorzempa & Larson, we work with our clients as a team. We recognize that, despite our experience, our clients bring special knowledge to the table and are an essential part of our advocacy.
Our attorneys are dedicated to providing the highest level of legal representation to our clients and to serving our community. To facilitate this, all of the firm's attorneys participate in continuing education classes, professional organizations, and are active in our community. While our firm primarily engages in construction defect litigation, arbitration, and mediation, we also assist clients in legal risk management, business formation and contract drafting and negotiation.
At Marvin Chorzempa & Larson, we take our role in the overall design community very seriously. We view ourselves not only as advocates to our actual clients, but also counselors to the community as a whole. In furtherance of this goal, we regularly participate and support both the AIA Portland Chapter and ACEC Oregon. We have advised these groups on legislative matters, presented seminars on legal issues and sponsored events.