Katherine Connor Ferguson
Ohio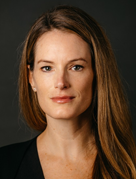 Kooperman I Mentel I Ferguson I Yaross
250 E. Town Street
Suite 200
Columbus, Ohio 43215
Tel: 614 344.4840

Email:
kferguson@kmfylaw.com
Web:
www.kmfylaw.com
Kate is a true trial lawyer with extensive experience in federal and state court litigation. While capable of handling any business dispute, Kate focuses her practice on construction law, and matters concerning officer and director liability, breach of fiduciary duties, breach of contract, tortious interference, and employment-related disputes.
Kate's broad-based litigation experience includes: jury trials, bench trials, temporary restraining order and preliminary injunction hearings, administrative trials, arbitrations, appellate practice before the Ohio Court of Appeals and United States Court of Appeals for the Sixth Circuit; representation of clients in U.S. Department of Justice investigations; and practice before local government boards and agencies.
Successful Representations
Kate defended and won numerous trials on behalf of a national corporate client, resulting in findings of no liability and dismissal of all claims.
Kate successfully appealed an unfavorable trial verdict on behalf of corporate Defendant, resulting in reversal of trial verdict with instructions to enter judgment in Defendant's favor.
Kate obtained Summary Judgment on behalf of corporate Defendant, resulting in the dismissal of all claims against client and finding of no liability.
Kate successfully defended corporate client in arbitration proceedings, resulting in a finding of no liability and dismissal of all claims.
Kate successfully enforced Venue and Jurisdiction clauses on behalf of corporate defendant in numerous commercial cases, resulting in dismissal of action in each instance.
Kate successfully defended and enforced non-competition provisions in employment agreements at preliminary injunction stage of proceedings.
Kate successfully enforced the rights of LLC members in an attempted squeeze-out by managing member, resulting in the subsequent negotiation of a favorable buy-out for members.
Education
The Ohio State University, 2005 – Moritz College of Law (J.D.)
Columbia University, 1999-2000 – Postbac Premedical Program
Vassar College, 1999 – B.A., Philosophy
Bar Admissions
State of Ohio
The United States Supreme Court
U.S. Circuit Court of Appeals for the Sixth Circuit
U.S. District Court for the Northern District of Ohio
U.S. District Court for the Southern District of Ohio
KMFY combines exceptional legal expertise with deep industry knowledge and creative thinking to keep you up to date and one step ahead of your competition. We're constantly challenging ourselves to bring new and original thinking to the most complex legal challenges our clients face.
We limit our areas of focus to ensure the highest quality of work. We focus on a few areas of law so that we can do them exceedingly well. Our legal expertise includes business, finance, government relations, real estate, development, construction and business litigation. Our services are complemented by our experience across a wide range of industries, including construction, financial services, and government. We invite you to partner with us.