Kevin C. Hines
Connecticut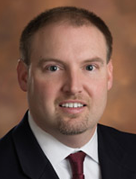 Nuzzo & Roberts, LLC
One Town Center
Cheshire, CT 06410
United States
Tel: (203) 250-2000

Email:
khines@nuzzo-roberts.com
Web:
www.nuzzo-roberts.com
Attorney Kevin Hines joined the firm in 2001 and is a Partner at Nuzzo & Roberts, LLC. He received his B.S. summa cum laude, in 1997 from the University of New Haven. He also received his J.D., cum laude, in 2001 from Western New England College School of Law where he served on the Honor Committee. He was awarded the CALI Excellence for the Future Awards in several courses, including Products Liability, Trial Methods and Litigation in the Pretrial Phase. He was selected as a Super Lawyers Rising Star for 2009-2014.
Attorney Hines was admitted to the Connecticut State Bar and Massachusetts State Bar in 2002. He was admitted to the U.S. District Court, District of Connecticut in 2003. He served as a research clerk to the Judges of the Connecticut Superior Court prior to joining the firm. His practice is primarily focused in the areas of insurance defense, including construction litigation, complex commercial litigation, products liability, premises liability and automobile accidents.
The Construction Litigation Group represents general contractors, subcontractors, project managers, developers, design professionals, architects, engineers and property owners in various disputes arising out of negligence, design and construction defects, product defects, breach of contract, breach of warranty, unfair trade practices, insurance coverage issues and indemnity claims. The group represents clients in all Connecticut state and federal courts, tribal court and arbitrations. Our clients range from large construction firms to small businesses. We pride ourselves in providing clients in the construction industry with knowledgeable representation in complex and technical matters.
Nuzzo & Roberts LLC is a civil litigation law firm focused on insurance defense, handles trials and appeals in all federal and state courts in Connecticut. Our attorneys are highly trained, effective advocates for our clients. For almost thirty years, we have remained committed to working closely with our clients to provide cost-effective, proactive and practical service. We are dedicated to continuing this high level of service as we face a changing insurance world.