Terrance M. Revere
Hawaii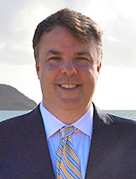 Revere & Associates LLLC
970 N. Kalaheo Avenue
Suite A301
Kailua, HI. 96734
Tel: (808) 791-9550

Email:
terry@revereandassociates.com
Web:
www.revereandassociates.com
Terrance M. Revere, Esq. is the mostly benevolent dictator of
Revere & Associates LLLC
, founded in 2012. As a life long fan of Magnum PI, he made his way to the islands in the 1980's and attended Chaminade University, earning his degree in Government, History and Bodysurfing. His interest for law was prevalent at the age of nine, when he found that arguing his way out of assignments instead of doing them was exciting and usually worked in his favor.
Mr. Revere was admitted to the Hawaii Bar in 1992 after receiving his law degree from the William S. Richardson School of Law. After his Clerkship at the Hawaii Supreme Court with Justice Steven Levinson, he joined the law firm of Love & Yamamoto as an associate. He became a partner of the firm that became known as Motooka Yamamoto and Revere before founding his own firm.
Mr. Revere has worked on thousands of cases in his twenty plus years in practice including cases involving personal injury, insurance, aviation, construction, business litigation and class actions. He specializes in condominium and community association law (representing both Associations and homeowners), especially in areas involving construction defects, developer issues, and neighbor versus neighbor and owner versus board disputes. He has practiced before all courts in Hawaii and has been called in to consult on cases in several states and in the United Kingdom.
One of the most significant cases he has tried became known as the "Molokai case" that became a landmark case in the condominium world.