Jerrol A. Crouter
Maine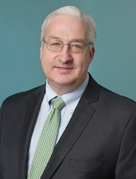 Drummond Woodsum
84 Marginal Way, Suite 600
Portland, ME 04101-2480
United States
Tel: 207.253.0512

Email:
jcrouter@dwmlaw.com
Web:
www.dwmlaw.com
Jerry Crouter is a member of the Trial Services Group. He has four primary practice areas: civil litigation, alternative dispute resolution, higher education, and public utility regulation. He has 35 years' experience as a civil trial attorney in both federal and state courts, including employment, commercial and construction litigation. He has extensive experience as a mediator and arbitrator in commercial, construction, employment, real estate, probate, family law, malpractice and complex personal injury cases. His practice concentration also includes representation of colleges and universities on a wide-range of higher education law issues, including student discipline, Title IX, faculty and staff employment, and tenure cases. His experience as an arbitrator, combined with his Title IX higher education experience, makes him ideally suited to serve as a hearing officer and/or decision-maker under the new Title IX regulations.  He regularly appears on behalf of public utilities and interested parties in water, electric, and gas proceedings before the Maine Public Utilities Commission.
Jerry concentrates his trial practice on commercial, employment and construction cases. He has tried jury and jury-waived cases, including employment discrimination, antitrust, commercial torts, construction disputes, contract disputes, and patent infringement.
Listed in Best Lawyers in America in the categories of Arbitration and Mediation, Commercial Litigation, Construction Litigation, Labor and Employment Litigation, and Bet-the-Company Litigation, Jerry has also been named by Best Lawyers as Maine's "Lawyer of the Year" in the categories of both Mediation and Arbitration. In addition, Jerry is listed in the Chambers USA Guide of America's Leading Lawyers for Business and Commercial Litigation, and Benchmark Litigation has recognized Jerry as a Maine Litigation Star. He has served as an adjunct Professor of Law at the University of Maine School of Law, where he taught Trial Practice.

Founded in 1965, with offices in Portland, Maine, and Portsmouth, Lebanon, and Manchester, New Hampshire, Drummond Woodsum is known as a premier New England law firm with a national reach. Our attorneys and consultants provide a full spectrum of legal and consulting services for our clients throughout the United States. Our clients range from some of the nation's largest corporations to small start-up companies, financial institutions, Indian nations and tribal enterprises, municipalities, school districts, and individuals. No matter the size of the client, we take great pride in delivering superior legal and consulting services in a timely and cost-efficient manner. Learn more about Drummond Woodsum's areas of expertise.
The main goal at Drummond Woodsum is to provide our clients with services that address their immediate legal needs while taking into account their long-term goals and objectives. We never forget that every client is unique; effective legal solutions are never one size fits all. By drawing upon the expertise of our attorneys and consultants within a range of service groups, we can efficiently and creatively respond to the unique needs of every single client. Our team-based approach means that clients are served by small groups of highly specialized attorneys and consultants.