Kevin M. Sexton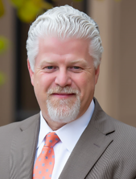 Resnick & Louis, P.C.
5600 Eubank Blvd, NE, #220
Albuquerque, NM 87111
United States
Tel: (505) 910-4595

Email:
ksexton@rlattorneys.com
Web:
www.rlattorneys.com
Kevin M. Sexton, Esq. is a partner in the New Mexico office of Resnick & Louis, P.C. Mr. Sexton concentrates his practice to negotiating and litigating construction related disputes on behalf of architects and engineers.
Mr. Sexton represents design professionals from numerous disciplines, including architecture, geotechnical engineering, structural engineering, electrical engineering, mechanical engineering, civil engineering, environmental engineering and surveying.
Mr. Sexton is a frequent speaker for various architectural- and engineering-related organizations (i.e., AIA, ACEC, DBIA, NMSPE and SEANM). Mr. Sexton is also a regular guest lecturer at University of New Mexico School of Architecture and School of Engineering.
At Resnick & Louis, we have established a competent and well-respected construction law practice. Our attorneys have impressive experience defending developers, contractors, subcontractors, home builders, architects, engineers, suppliers, and insurance companies in various aspects of construction litigation.
Our lawyers' comprehensive knowledge and understanding of the construction industry gives us the ability to provide excellent results for our construction clients throughout the states we represent.
Construction Defect Litigation Services:
Additional insured obligations
Architecture & engineering contracts and related litigation
Construction accidents & injury claim defense
Construction defect litigation, commercial & residential
Construction contracts, disputes & review
Delay claims
We are committed to providing our clients with the best available legal services in a timely and cost-effective manner. We understand the importance of time in the construction industry, and appreciate that legal claims or disputes may result in costly delays for our clients.
We are a mid-sized institutional and insurance defense law firm, with a unique coast-to-coast footprint. What truly sets us apart is our people. We created a team of diverse and experienced attorneys who pride themselves on achieving the best possible outcomes for each and every client. Our attorneys are seasoned professionals, 70% of which have 10-30 years of experience. Our practice has strong expertise in the following areas:
Hotels / Casinos
Commercial & Personal Lines
Bodily Injury
Business & Corporate Law
Commercial Litigation & Transactional
Construction Defect Litigation
Employment Law
Environmental Law
Estate Planning
First Party Property Analysis
Health Care Defense
Hospitality & Retail Defense
Insurance Defense
Probate & Trust
Professional Liability
Surety
Real Estate & Title Defense
Transportation & Trucking
Workers' Compensation
Resnick & Louis, P.C. has offices across the country in various major metropolitan areas.  As a firm, we provide nationwide representation throughout many jurisdictions. In addition, we maintain an outstanding network of consultants, expert witnesses and other professionals who are readily available to assist in our clients' cases. It is this ability to collaborate with other professionals in our network that truly adds to the quality of representation our clients receive.